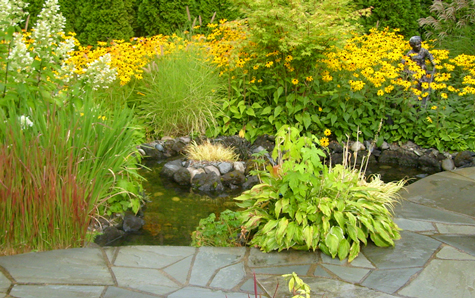 All Natures Construction, specializing in landscape design,construction and irrigation was founded by current owner and president Elmer N. Aranda Jr. in June of 2000. Located in Portland, Oregon, All Natures Construction offers landscaping services in Oregon and SW Washington.
My name is Elmer Aranda. I started off my career as a mechanic out of high school and was scheduled to start school at UTI in Arizona in the fall of 1989. Before I packed my bags and flew out of Portland, Oregon I took a position at a local landscape company by the name of Touch of Green. There, I was laborer and quickly moved up the ranks. I found that I had a totally different set of skills that were similar to being a mechanic, in that I am a problem solver. I was more passionate about what I could do with my skills. So I had to make a decision. I opted to stay in Portland and stay employed as a landscaper. I worked only for a few years before I decided, this is what I wanted to do with my life.
"The work is so rewarding and building what people dream of is the best career I could possibly have."
After working with a handful of service providers, I went to school at Mt. Hood and took some courses related to my new landscaping field. After learning more knowledge about the landscaping industry I decided to open up the doors and become my own boss. With over 20 years of experience I feel I can bring my knowledge of very difficult and challenging landscape installs to the table and make your experience with us one of the best in the northwest.
I opened the doors of All Natures Construction in 2000 and really made a go of it in 2002. We specialize in landscape design and installation. We are a design build firm. With that said, we are not at all opposed to working with another firms plans if so desired.
Upon first contact with All Natures Construction, a service representative will set up an onsite appointment with you for free. We do not charge for this as long as you are within a 30 mile radius of our shop. If you are located out of the area we would be happy to set up an appointment for $55.00 per hour. We will walk through and discuss the project with you to see what you and your family's needs, wants, and desires are. Whether it is a new install or you would like to implement some new ideas in your garden, we will listen, use your ideas, and give you feedback as to what our designers visions might be, and build from that.